The Happy Canvas, LLC was created so everyone of all different ages and levels can have a fun escape! Whether you are wanting to plan a kids birthday party, a bachelorette party, a sip and paint party, or a corporate team building party, we have created a variety of painting parties for you to choose from. Everything from private paint parties, public painting events, and virtual paint parties – we made them with YOU in mind!
The Beginning of The Happy Canvas
The Happy Canvas, LLC was started in August of 2019. The whole concept of drinking a glass of wine while painting has been around for quite some time. You grab a friend, your favorite drink and go to your local studio or bar to create your own masterpiece. Sara has never been interested in going for the simple fact that she never considered herself to have any artistic skills, and she doesn't drink.  However, Sara's daughter, Josephina, likes to enjoy a glass of wine and she wanted to see what it was all about. Josie thought it would be a fun experience, so the mother-and-daughter duo booked their sip and paint class… and that night changed everything for them.
The Owners & Their Journey
Sara has always considered herself an entrepreneur without a talent, and after that night she was intrigued by the business concept. Sara and Josie started to go out to the local studios more often, and they loved it!  So much, in fact, they thought it would be fun at their own home with their friends and family – So they started hosting paint parties in their own home. They would pick a picture or a short tutorial on YouTube and follow along, listen to music and laugh! That sparked the idea of a mobile studio! Sara and Josie started to put together plans, discuss details, and decided to get their LLC. They just went for it! Keep in mind, at this time neither one of them were artists, nor did they know where they would find one. Sara and Josie put an ad out on Craigslist and found someone perfect for the team. She had previously worked at a studio teaching classes and was eager to start. The Happy Canvas Team got started right away creating the portfolio and booking private parties. It seemed so perfect, the way everything came together. They got into their first event venue with weekly classes, and they started to take off.
In March of 2020, along with the rest of the world, The Happy Canvas was hit with the Pandemic. We all know how the story went, right? The Happy Canvas had 100% cancellations and as an event business, the small business took a huge hit. The artist they hired had to find other employment and Sara and Josie knew they wouldn't be able to find a new artist in the middle of a Pandemic.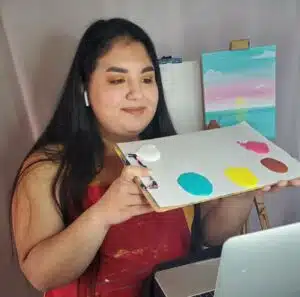 Josephina was helping at the events assisting the artist in helping the painters, so she picked up on a few techniques. She has an artistic eye for creating images, but did not know how to put them on the canvas. Sara asked their artist if she could work with Josephina for a few weeks to teach her some of the basics. After about 6 hours of one-on-one classes, the trainer decided she had to move on for her own personal reasons. After a couple weeks of feeling lost and not knowing what to do next, Josephina decided to see what she could do. She started drawing, and then she started to paint her drawings. Within a couple months, she had developed herself into the artist they needed to save the company.
It was August by now, and they were still in the middle of the Pandemic with an event business. In order to keep The Happy Canvas alive, they decided to launch DIY paint kits and virtual classes. Not long after, The Happy Canvas was back in business – booking virtual classes and selling their DIY paint kits. In no time at all, The Happy Canvas was booking in-person paint parties and now they are a mom and daughter team that is unstoppable. Sara's shy daughter, who a year ago used to say "I can't even draw a stick figure", is now getting up in front of a huge crowd of people – teaching them all to paint the paintings she created.
We started this company to bring smiles to peoples faces through art. Our paint night changed our lives and we wanted to share our experience with others. We love what we do and still have to pinch ourselves sometimes because we are living out our dream! Never give up on your dreams, we are proof that anything can happen when you put your mind to it! -Sara, Owner and Co-Founder